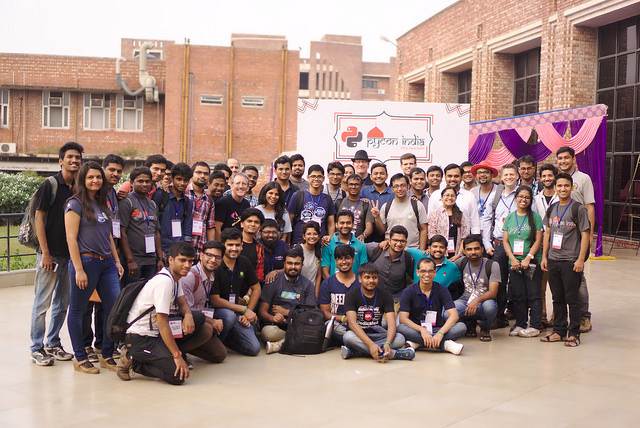 PyCon India, this year was held at New Delhi at the JNU Convention Center.
Dev Sprints
During the Dev Sprint, Farhaan and Vivek were sprinting on Fedora Infrastructure projects primarily helping people contribute to Pagure.
Other projects/orgs like SciPy, Red Hat team, FOSSAsia, Junction etc were also sprinting.
The Dev Sprint turned out to have a good participation and couple of PRs were sent out by the participations. More than that, it's more about participants getting to know about on how to contribute.
Red Hat Booth
Red Hat being a PyCon India sponsor did set-up a booth. Praveen, Suraj, Trishna, Ganesh, Rupali were talking to people, explaining them about different topics ranging from contributing to open source to products & services Red Hat provides.
I did stumble upon the booth a couple of times and helped them out to know how to contribute the Fedora Infrastructure project.
The booth was shared with PyLadies Pune (Kudos to Rupali, for letting them share the booth)
Talks
I mostly spend my time at the hallway talking/discussing stuffs with people. But I do attend the interesting talks.
I attended the talk by @rtnrpo and @bamachrn. Sadly both their talks were in the same slot.
@bamachrn explained the complete CentOS Community Container Pipeline.
@rtnpro talked on how we went ahead and built ircb by implementing Realtime microservices with server-side Flux.
Recently, I have been trying to work on my knowledge on licenses. @anwesha talk was one good talk which gave an idea on why to use a license, which license to choose when and other pros and cons.
DGPLUG Annual Meet
Every year at PyCon India, we have our annual DGPLUG meet at the conference, where people from different part of the country and we can meet each other once a year. We discussed what they gained from this year's training. What's wrong? What's stopping them from contributing. We were joined by Sartaj, he shared valuable ideas and how to work on thinking process to contribute.
PyLadies
This year PyCon India had a presence of Pyladies. During the Open Space session, there was a open discussion about PyLadies and where Jeff Rush, Van Lindberg, Paul Everitt, Dmitry Filippov joined to share their experience in community.
Btw, we did have a really nice PyLadies umbrella as prop at the PyLadies booth.